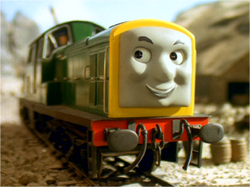 Derek
Number: D4, originally D8500
Class: BR Class 17
Designer: Clayton Equipment Co.
Builder: Clayton Equipment Co.
Built: September 1962
Configuration: Bo-Bo
Top Speed: 60 mph
Derek is a faulty diesel engine who works on Edward's Branch Line as a freight engine.
Bio
Persona
Derek is a jolly, enthusiastic diesel engine, who was brought in to assist Bill, Ben and BoCo at the China Clay Pits. Unfortunately, due to his engine, he is highly prone to teething troubles, namely overheating and suffering frequent breakdowns, for which he is apologetic for the inconvenience. As a result, he spends many a day having his engine tended to at the Dieselworks. But Derek is a likeable chap and even Bill and Ben decided that they liked him due to his friendly nature. Derek has an infectious charisma, is keen to help anyone around him, and has a passion for sorting things out in a jiffy - if his cooling system lets him.
Livery
Derek is painted in the BR Brunswick green livery with yellow warning panels. His window frames are lined, and the number "D4" is painted on his cab sides, in white. He originally had the BR logo on his sides.
Trivia
Ad blocker interference detected!
Wikia is a free-to-use site that makes money from advertising. We have a modified experience for viewers using ad blockers

Wikia is not accessible if you've made further modifications. Remove the custom ad blocker rule(s) and the page will load as expected.