"Not bad. I've seen worse. At least you're all clean."
— D261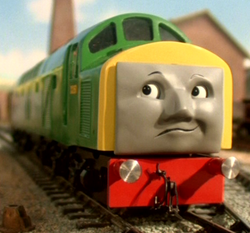 D261
Number: 40 061, originally D261
Class: BR Class 40
Designer: British Railways
Builder: Vulcan Foundry
Built: February 1960
Withdrawn: June 1983
Scrapped: March 1984
Configuration: 1Co-Co1
Top Speed: 90 mph
D261, later known as 40 061, and also known as Diesel, was a diesel engine who once came to the North Western Railway on loan from British Railways.
Bio
Persona
The Diesel was snobbish and rude, believing that diesel engines should take over from steam engines.
Livery
When he visited Sodor, D261 was painted in the BR Brunswick green livery, with a thin, lighter green stripe running along his top and yellow warning panels. The number "D261" was painted on his cab sides in yellow.
At some point after returning to British Railways, he was repainted into the "Rail Blue" livery. He had the BR logo painted on his cab sides, and the number "40 061" painted on opposite in white.
Trivia
Ad blocker interference detected!
Wikia is a free-to-use site that makes money from advertising. We have a modified experience for viewers using ad blockers

Wikia is not accessible if you've made further modifications. Remove the custom ad blocker rule(s) and the page will load as expected.