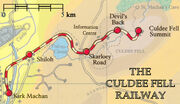 The Culdee Fell Railway (CFR), nicknamed "The Mountain Railway" is a narrow guage (2ft 7½in) rack and pinion mountain railway on the Island of Sodor, running for 8 miles from, Kirk Machan to the Summit of Culdee Fell, the highest peak on Sodor.
History
Operations and Stations
Starting from the station at Kirk Machan, the line climbs up to the summit, calling at Shiloh, then runs along the wildlife sanctuary at Poll-ny-Chrink. After that it makes stops at Skarloey Road, "Devil's Back", and Culdee Fell, the summit of the line. The line is open from Easter to Michaelmas, with winter being when repairs are made to the line.
Rolling Stock
Locomotives
Trivia
It is one of only two rack railways in the UK, the other being the Snowdon Mountain Railway.