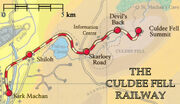 The Culdee Fell Railway is a 2ft 7 1⁄2in gauge rack railway on the Island of Sodor. Lord Harold Barrane is the Chairman of the Board and part owner, while Mr. Peregrine Percival acts as its current Manager.
History
Operations and Stations
Starting from the station at Kirk Machan, the line climbs up to the summit, calling at Shiloh, then runs along the wildlife sanctuary at Poll-ny-Chrink. After that it makes stops at Skarloey Road, "Devil's Back", and Culdee Fell, the summit of the line. The line is open from Easter to Michaelmas, with winter being when repairs are made to the line.
Engines
Trivia
It is one of only two rack railways in the UK, the other being the Snowdon Mountain Railway.
Ad blocker interference detected!
Wikia is a free-to-use site that makes money from advertising. We have a modified experience for viewers using ad blockers

Wikia is not accessible if you've made further modifications. Remove the custom ad blocker rule(s) and the page will load as expected.