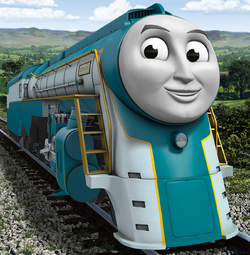 Connor
Number: 38, originally 5474
Class: NYC J-3a Hudson
Designer: Henry Dreyfuss
Builder: Alco-Schenectady
Built: 1938
Configuration: 4-6-4
Top Speed: 115 mph
Arrived on Sodor: 1973
Connor is a streamlined American streamlined engine, who is designed for speed. He has his own rake of coaches. He pulls fast passenger trains between the Mainland and Sodor with Caitlin.
Bio
Connor was built in 1938 for the New York Central Railroad in the United States. For almost twenty years he and his brothers and sisters hauled the N.Y. Central's crack passenger trains. By the late 50's he had been withdrawn and all his classmates were scrapped, how he survived is unknown.
He, along with Caitlin, was acquired in 1970 by Sir Charles Topham Hatt and underwent a extensive rebuild to fit the British loading gauge. At the time, they were joint owned by the North Western Railway and British Railways. They arrived on Sodor in 1973 and began hauling fast passenger trains, mostly between Ulfstead Castle and London.
Upon the privatisation of British Railways in 1997, he and Caitlin became fully owned by the NWR.
Persona
Connor is a streamlined engine, designed for speed. Along with his friend Caitlin, Connor is an excitable and energetic character, who likes to be busy and loves to race. Both Connor and Caitlin are friendly and eager to get other engines to join in the fun with them. Connor, however; is better at being patient, unlike Caitlin. Although it's probably unintentional, he can come across as being somewhat smug.
Livery
Connor is painted teal blue with aquamarine and yellow lining. He has brass nameplates on the sides of his boiler. The number "38" is painted on the sides of his tender in yellow.
Trivia