"Where do crocodiles keep their money?"
— Charlie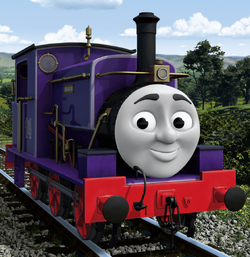 Charlie
Number: 14
Class: Manning Wardle L Class
Designer: Manning, Wardle & Co.
Builder: Manning Wardle
Built: 1924
Configuration: 0-6-0ST
Arrived on Sodor: 1970
Charlie is a purple tank engine on the North Western Railway who loves to tell jokes. He usally works in Knapford Yards. 
Bio
Charlie was built in 1924 and for many years saw industrial useage, but eventually came under the ownership of British Railways, and was assigned to its London Midland Region.
His playful and jokey nature quickly earned him the friendship of the other engines he worked with, who enjoyed his cheerfulness and sense of humour in the glum days of modernisation, and the affections of his Controller, who allowed him to wear a non-standard livery. As the years went on, his friends disappeared one by one, but his nature allowed him quickly to earn the friendship of their diesel replacements.
By the late 1960s steam was coming to an end, and his Controller, who by now regarded Charlie as favorite engine, searched desperately to save him from the fate that had befallen so many engines. He eventually managed to contact his friend, Sir Topham Hatt II, who agreed to buy Charlie. Charlie, who had heard of Sodor and its "fun" engines, was excited about this and, after being overhauled, was sent to Sodor.
Persona
Charlie has a reputation for being a really fun engine. He has an unquenchable desire for fun, games and play and is said to have been the favourite engine of his former Controller. Charlie can get easily distracted by his japes, sometimes distracting others in the process. Charlie can be pouty, huffy and teasing at times, but he always wants everyone to be enjoying themselves. Often though, Charlie will learn that the opinions of others, keeping calm and working hard to complete your jobs foremost, are important if you want to be a Really Useful engine. He has good working relationships with Edward, often calling him "Eddie", who is capable of taking Charlie under his wheels, and Thomas, who Charlie enjoys racing and sharing in the fun with. Being a fun-loving, playful scamp, cheeky Charlie is popular at parties and fairs, is well liked by the children and is known for his youthful humour.
Livery
Charlie is painted dark purple with light purple lining, brass fittings and red wheels. He has the number "14" painted in gold on his cab sides and brass nameplates with his name in white on the sides of his saddletank.
Trivia
Ad blocker interference detected!
Wikia is a free-to-use site that makes money from advertising. We have a modified experience for viewers using ad blockers

Wikia is not accessible if you've made further modifications. Remove the custom ad blocker rule(s) and the page will load as expected.