"It will be a piece of cake!"
— Ceinwen Neptune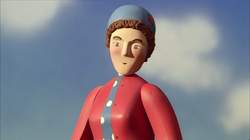 Ceinwen Neptune
"The Refreshment Lady"
Ceinwen Neptune (nee Ogwen), commonly known as the Refreshment Lady, (1906-1987) is a chef and businesswoman who founded and run the Neptune Refreshments chain of cafés.
Bio
Persona
Family
She was married to John Neptune (1905-1986) for 61 years. She has a daughter, Bronwen (1944-), who is married to Peter Sam's former driver, Roger Sam, and who took over the business after her death. She has three grandchildren, Peter, Cienwen and Samuel.
Attire
Ceinwen wore a sky blue dress with white polka dots and a pink cardigan and blue hat.
Trivia
Ad blocker interference detected!
Wikia is a free-to-use site that makes money from advertising. We have a modified experience for viewers using ad blockers

Wikia is not accessible if you've made further modifications. Remove the custom ad blocker rule(s) and the page will load as expected.