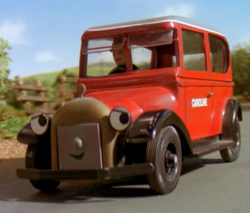 Caroline
Registration Number: URA 1
Class: Oxford Bullnose
Builder: Morris Motors
Built: 1926
Drivetrain: 4WD
Top Speed: 45 mph
Caroline is a vintage car formerly owned by a cricketer from the Elsbridge cricket club. She is now used as a vintage taxi by Sodor Roadways.
Bio
Persona
Caroline enjoys taking leisurely drives along the beautiful Sudrian countryside. She dislikes being pushed along too fast, as it will overheat her engine. She is very calm in nature and appreciates the engines. She loves the occasional picnic where she is parked for the duration. She used to think railway engines were silly, until she discovered how they can save the wear and tear on her wheels. She takes pride in being one of the oldest cars on Sodor.
Livery
Caroline is painted red with a gold radiator and grey roof. Her name is written on her sides in white.
Trivia
Ad blocker interference detected!
Wikia is a free-to-use site that makes money from advertising. We have a modified experience for viewers using ad blockers

Wikia is not accessible if you've made further modifications. Remove the custom ad blocker rule(s) and the page will load as expected.