"The race is on!"
— Caitlin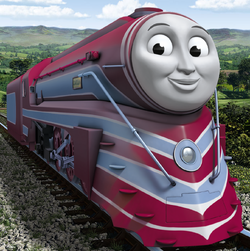 Caitlin
Number: 39, originally ?????
Class: B&O P-7a
Designer: Baldwin Locomotive Works
Builder: Baldwin Locomotive Works
Built: 1927
Configuration: 4-6-2
Top Speed: 110 mph
Arrived on Sodor: 1973
Caitlin is a American streamlined engine, who is designed for speed. She has her own rake of coaches. She pulls fast passenger trains between the Mainland and Sodor with Connor.
Bio
Persona
Caitlin is a streamlined engine, designed for speed. Along with her friend Connor, Caitlin is an excitable and energetic character, who likes to be busy and loves to race. Both Caitlin and Connor are friendly and eager to get other engines to join in the fun with them. Caitlin is particularly impatient and restless if she has nothing to do. She would rather be racing than sit in a station and be idle. She rarely seems to lack energy.
Livery
Caitlin is painted fuschia with light grey and light blue lining. She has brass nameplates on the sides of her boiler. The number "39" is painted on the sides of her tender in yellow.
Trivia