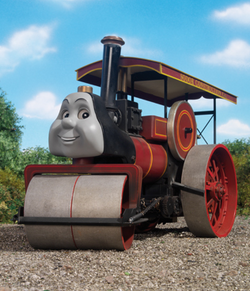 Buster
Number: 20
Class: R10
Builder: Aveling & Porter
Built: 1929
Buster is a simple minded steamroller who goes about his job with pride and content. He is part of The Pack
Bio
Persona
Buster is a hard worker with heart and commitment in what he does and he is a good dreamer. He goes about his job with glee and pride knowing all is right with the world. He is liked by all the machines for his wonderful enthusiasm and kindness to help with everything. One of dreams is to be "the fastest steamroller in the world" and while some, such as Max and Monty mock his speed, he doesn't let it deter him and Buster commonly proves that slow and steady does indeed win the race.
Livery
Buster is painted brownish-red with yellow and dark orange lining. The words "PACKARD & Co." are painted on the sides of his veranda in yellow.
Trivia
Ad blocker interference detected!
Wikia is a free-to-use site that makes money from advertising. We have a modified experience for viewers using ad blockers

Wikia is not accessible if you've made further modifications. Remove the custom ad blocker rule(s) and the page will load as expected.