"Stupid hens! Silly passengers! You can have them both!"
— Bulgy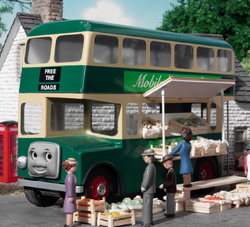 Bulgy
Registration Number: BLG 1
Class: AEC Bridgemaster double-decker
Builder: Associated Equipment Co.
Built: 1960
Drivetrain: 4WD
Bulgy is a double-decker bus, who was once very opposed to railways. He is now a mobile vegetable stand.
Bio
Bulgy was bought by Sodor Roadways new in 1960 as part of their first batch of double decker buses. The company wanted to be more competitive with the North Western Railway and believed larger buses was the way forward. Bulgy, however, was more competitive than the company bargained for. He was assigned to Tidmouth Garage for service along the route to Arlesburgh. He soon began declaring that the Roadways would take over from the railways, much to the annoyance of the older single decker buses such as Bertie.
The engines themselves took little notice of Bulgy, considering him a minor annoyance at worst.
Persona
Bulgy was a very rude and bad-tempered double-decker bus who had no scupels. He firmly believed that the roadways were superior than railways, and would occasionally lie to get himself out of trouble. After being restored, he saw the error of his ways and he tried to changed his attitude for the better. However, he soon swore off carrying passengers (and hens), opting to be converted to a vegetable bus, a job in which he enjoys a happier life.
Livery
Bulgy is painted green and cream, with light green signs on his sides reading "MOBILE GROCERY STORE" in white.
He was originally painted red and cream. He had a sign on his left side reading "RAILWAY BUS" and another sign on his right side reading "JOIN THE ANTI-RAIL LEAGUE". He also had signs on his front and back, reading "FREE THE ROADS".
He was later repainted in his original livery.
Trivia