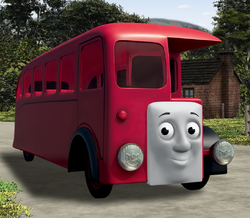 Bertie
Registration Number: CRD 54
Class: AEC Regal T Class bus
Builder: Associated Equipment Co.
Built: 1933
Drivetrain: 4WD
Top Speed: 60 mph
Arrived on Sodor: October 1933
Bertie is a red bus who works alongside Thomas' Branch Line. He is Sodor Roadways first and oldest bus.
Bio
Persona
Bertie is kind, helpful and friendly, but also highly competitive and somewhat boastful. He enjoys racing, especially with Thomas, and also enjoys teasing his friend, usually with the intention of goading him into another race or simply to boast, though he is a good sport when it comes to racing. He has a tendency to grumble when he is delayed or breaks down. While he does believe roadways are superior to railways, he still greatly respects his railway friends and will always help then when they are in need.
Livery
Bertie is painted in Sodor Roadways "London Red" livery with black lining.
Trivia
Ad blocker interference detected!
Wikia is a free-to-use site that makes money from advertising. We have a modified experience for viewers using ad blockers

Wikia is not accessible if you've made further modifications. Remove the custom ad blocker rule(s) and the page will load as expected.