"It's nicer than just a number. Having a name means that you really belong."
— Bear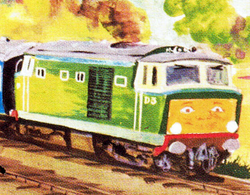 Bear
Number: D3, formerly D7101
Class: BR Class 35 "Hymek"
Designer: Beyer Peacock Ltd.
Builder: Beyer Peacock Ltd.
Built: February 1964
Configuration: Bo-Bo
Top Speed: 90 mph
Arrived on Sodor: 1967
Bear (formerly known by his number, D7101) is a diesel engine on the North Western Railway who works on the Main Line.
Bio
Persona
Bear is one of the more useful and nicer diesels. He is a loyal and friendly sort, but often makes unusual growling noises much to the disturbance of the other engines; thus earning the name "Bear." Sir Charles Topham Hatt was impressed with BoCo and Bear; he called them "versatile" because they could pull both coaches and trucks. BoCo and Bear usually defend the steam engines when a visiting diesel boasts about how superior they are.
Livery
Bear is painted in the BR Brunswick green livery with a narrow band of lime along the bottom of his sides, cream window surrounds and yellow warning panels. The number "D3" is painted on his cab sides in white. When he first arrived on Sodor, he wore the BR "Rail Blue" livery with yellow warning panels.
Trivia
Ad blocker interference detected!
Wikia is a free-to-use site that makes money from advertising. We have a modified experience for viewers using ad blockers

Wikia is not accessible if you've made further modifications. Remove the custom ad blocker rule(s) and the page will load as expected.