"One biff! One bash!"
"And there's never a crash!"
— Bash and Dash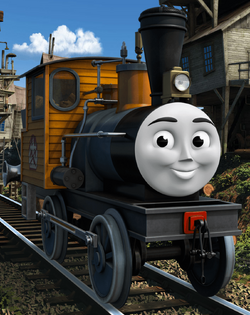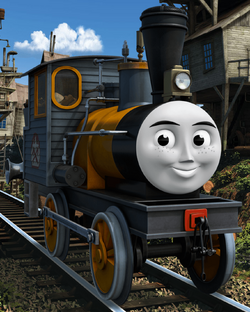 Bash and Dash
Number: MILR 1 and MILR 2
Designer: Marshutz & Cantrell
Builder: ?????
Built: 19??
Configuration: 0-4-0WT
Arrived on Sodor: April 1970
Bash and Dash are fun loving twin tank engines who work on Misty Island with Ferdinand.
Bio
Bash and Dash were originally built in Liverpool to a American "gypsy design" for a logging railway on the Mainland. During their brief time there they made friends with an elder engine who worked them, Ferdinand. The twins gained a reputation for being very naughty and caused several accidents, both intentionally and not. One incident saw them cause a forest fire, and while they worked bravely to help put it out, the damage had been done and the company decided to send them to the recently opened Misty Island Logging Railway as punishment. Ferdinand, not wanting to be separated from his friends, took the fall too and was sent as well.
The railway had been constructed very poorly with several incredibly dangerous structures. The Twins however, found these various contraptions incredibly fun.
Persona
Bash and Dash are the whacky, mischievous Logging Loco twin engines who know each other so well that they can often finish the others' sentences. Living in an environment without proper rules, authority, or society, Bash and Dash live for fun, silly games and playing about in the chaotic, consequence-free Logging Camp and the dense Jobi forests of Misty Island. Often, they were easily distracted, reckless, and got very little work done and, when they did, it was in a particularly silly, whacky and questionable manner.
However, after Thomas wound up on Misty Island, Bash and Dash's outlook has changed and they try to be Really Useful Engines. Instead of aspiring to only goof around, they are now keen to help the Sodor engines and learn about the proper way of doing things, the values of good behaviour and forming new friendships with others. Although sometimes Bash and Dash may be baffled by concepts that are unfamiliar to them, they attempt to assimilate new prospects, take part, and strengthen their friendships with the Sodor engines and their reputation of being really fun. Joining in or even trying to recreate these previously unfamiliar social quirks helps Bash and Dash learn about the world around them, the virtues and graces of others, and how to appreciate and understand new things to help them be Really Useful.
Although they will always be fun-loving and may raise the eyebrows of some of the bigger engines as they lark about with their work, Bash and Dash's new-found respect for considering others and learning and applying everyday rules, values, and behaviours helps them to learn and draw from the Sodor engines and the sensibilities of society, the world around them, and maturing into Really Useful engines to make the Fat Controller proud.
Bash is the more timid, peaceful one of the twins, while Dash is more outgoing and supportive.
Livery
Bash's boiler and wheels are painted slate grey and his cab and dome are painted amber. Dash's boiler and wheels, are painted amber and his cab and dome are painted slate grey. They both have MILR logo painted on the sides of their cabs and the numbers "1" (Bash) and "2" (Dash) engraved on the sides of their lamps.
Trivia
Ad blocker interference detected!
Wikia is a free-to-use site that makes money from advertising. We have a modified experience for viewers using ad blockers

Wikia is not accessible if you've made further modifications. Remove the custom ad blocker rule(s) and the page will load as expected.