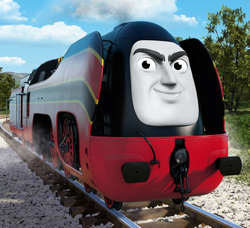 Axel
Number: 12.04
Class: NMBS/SNCB Type 12
Designer Raoul Notesse
Builder: John Cockerill Company
Built: 1939
Retired: 1962
Configuration: 4-4-2
Top Speed: 103 mph
Axel is a Belgian engine who participated in The Great Railway Show. He was a contender in the Great Race.
Bio
Persona
Livery
When he competed in the Great Railway Show, Axel was painted red with black and yellow lining, the same colour scheme as the Belgian flag. He is usually painted green with yellow lining.
Trivia
Ad blocker interference detected!
Wikia is a free-to-use site that makes money from advertising. We have a modified experience for viewers using ad blockers

Wikia is not accessible if you've made further modifications. Remove the custom ad blocker rule(s) and the page will load as expected.