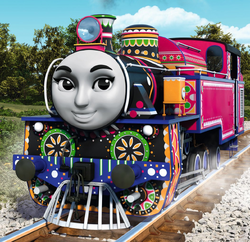 Ashima
Number: X-37385
Class: Nilgiri Mountain Railway X
Builder: Swiss Locomotive and Machine Works
Built: 1920
Configuration: 0-8-2T
Top Speed: 20 mph
Ashima is a brightly-painted Indian tank engine, who works on the Nilgiri Mountain Railway. She was one of many engines to participate in the Great Railway Show, and competed in the Shunting Challenge.
Bio
Persona
Livery
Ashima is painted magenta with white and dark blue lining. Her wheels and bufferbeam are also painted dark blue. She bears several bright green, white and orange patterns, inspired by Indian textiles and Henna Tattoos, and flower petal desings on hir front cylinder blocks.
Trivia
Ad blocker interference detected!
Wikia is a free-to-use site that makes money from advertising. We have a modified experience for viewers using ad blockers

Wikia is not accessible if you've made further modifications. Remove the custom ad blocker rule(s) and the page will load as expected.