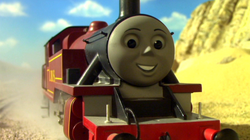 Arthur
Number: 13, formerly 1205, 41205
Class: LMS Ivatt Class 2MT Tank
Designer: H. George Ivatt
Builder: LMS Crewe Works
Built: December 1946
Configuration: 2-6-2T
Arrived on Sodor: 1966
Arthur, originally named Clarence, is a big tank engine from the London, Midland and Scottish Railway. He runs the Norramby Branch Line.
Bio
Arthur.
Persona
Arthur is a big tank engine who has never been naughty in his life. He was highly esteemed for his "spotless record" before he arrived on Sodor, never having made a mess or a fuss and never having caused an accident. His main duties were to shunt trucks and haul goods trains. Arthur can be a bit naive however and after a jealous Thomas tricked Arthur into setting his standards too high with the trucks, his record did not stay as spotless as he had hoped. Arthur is very obedient, cautious, and well-behaved. He aims to please in his work and do everything as best he can. He now mainly runs the Fishing Route by the coastal village. Here, Arthur enjoys the sea air and the smell of the fish. He is proud of his LMS heritage, though not as proud as, for example, Duck is of his GWR heritage.
Livery
Arthur is painted in the LMS maroon livery with yellow lining, gold boiler bands and "LMS" written on the sides of his tanks in yellow and red. The number "13" is painted on the sides of his cab in yellow.
He was previously painted in the LMS Wartime Black livery and the BR unlined black livery.
Trivia
Ad blocker interference detected!
Wikia is a free-to-use site that makes money from advertising. We have a modified experience for viewers using ad blockers

Wikia is not accessible if you've made further modifications. Remove the custom ad blocker rule(s) and the page will load as expected.