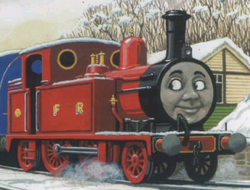 Albert
Number: 10619, originally 70
Class: FR J1, originally FR E1
Designer: Richard Manson
Builder: Sharp, Stewart and Co.
Built: 1872, rebuilt 1891
Scrapped: 1924
Configuration: 2-4-2T, originally 2-4-0
Albert was a red tank engine who worked on the Furness Railway's Lakeside Branch Line with his coaches Victoria and Helena.
Bio
Persona
Livery
Albert was painted in the Furness Railway's Indian Red livery with "FR" written in yellow and countershaded with blue on his side tanks. He had brass numberplates on the sides of his bunker.
Trivia
He was named after Prince Albert, Prince Consort of the United Kingdom between 1840 and 1861.
Ad blocker interference detected!
Wikia is a free-to-use site that makes money from advertising. We have a modified experience for viewers using ad blockers

Wikia is not accessible if you've made further modifications. Remove the custom ad blocker rule(s) and the page will load as expected.